Take the Tour
Discreet Gay Chat Rooms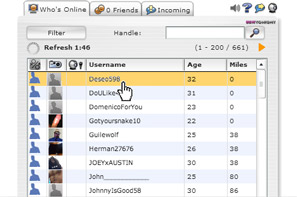 Chat With Gay Men Now
Within minutes of making your account you'll be chatting with sexy available men who want to meet you. Our goal is to provide our members with the best chance of finding gay hookups right now. One of the ways we accomplish that goal every day is by letting all members use the gay chat rooms for free to maximize the number of men available at any moment day or night. Once you see how successful Discreet Gay Dating is for your own sex life, you can always choose to amp up the excitement at that point by upgrading your membership.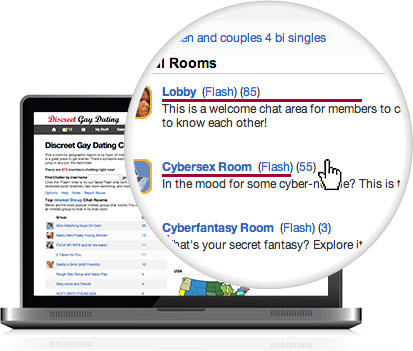 Chat Rooms For Like-Minded Men
The men who frequent Discreet Gay Dating understand the feelings of paucity that many gay men face in their own local environment, work place or social life. That's part of the reason why the sexy gay chat rooms we offer for discreet and private men make such a big difference. You are likely to find great dates by flirting online and sharing your own interests, but you'll also be surprised how easy it is to find new friends, contacts, hookups and inspiration just by getting to know the community of exciting people who hang out at Discreet Gay Dating.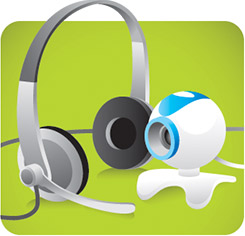 Webcam Chat With Men Online Privately
Have a few hours to yourself but not quite enough time to go out on a date? Then right now is the perfect time to try out the two-way gay sex chat available inside Discreet Gay Dating. Just you and whoever you choose in a private video chat room where you can see and hear everything the other is doing, backed by an encrypted data stream and the complete confidentiality of our award winning online gay dating service.